The Visitor's Guide
to the Weeks Brick House & Gardens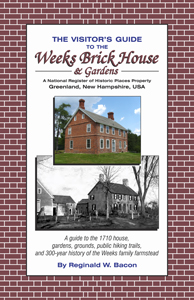 A National Register
of Historic Places Property
in Greenland, N.H., USA
A guide to the 1710 house,
gardens, public hiking trails,
and 300-year history
of the Weeks family farmstead
by Reginald W. Bacon
(Newburyport, Mass.:
Variety Arts Press, 2015)
60 pages; paperback,
with self-guided tour, photos,
maps, time line, & bibliography
ISBN: 978-0-9817945-9-4
LOC: 2015914615
The Visitor's Guide to the Weeks Brick House & Gardens in Greenland, N.H. includes local history context, family history context, farmstead history (1656-1968), photos, garden plot plans, trail maps, and a self-guided exterior architectural tour. The 1710 brick house, among the earliest brick homes in New England, has been on the National Register of Historic Places since 1975, when preservation efforts to save the farmstead prevailed over plans for a suburban subdivision. Since that time, the non-profit descendants organization that rescued the house has re-created a Colonial-era herb garden, conveyed a conservation easement to the town of Greenland and state of New Hampshire to preserve over 30 acres of the farmstead as permanent conservation land, and laid out woodland walking trails for public recreational use. This book will appeal to enthusiasts of Colonial-era architecture, local history, early American gardens, and contemporary open space preservation. And of course the book is essential for Weeks family descendants looking to explore the farmstead and walk in the footsteps of ancestors.
$16.00 (US) includes book-rate shipping in the U.S.
(Inquire for additional international shipping cost.)
Payment accepted by PayPal (see "Buy Now" below),
check, or money order.
To order by postal mail, send order details,
your shipping address, and payment to:
Variety Arts Enterprises, P.O. Box 489, Newburyport, MA 01950.